Statement Of Faith...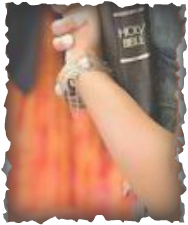 We believe the Bible to be the verbal, plenary inspired Word of God, authoritative, inerrant, and God breathed (2 Timothy 3:16-17; 2 Peter 1:20-21; Matthew 5:18). The content of the Bible has been revealed by God in order to make known to man information about God which man otherwise could not know (1 Corinthians 2:9-10). Since the content of the Bible has been revealed by God and recorded under inspiration without error in the Bible, it is our sole authoritative guide in all matters of doctrine, faith, and practice.

We believe there is only one true God who is Triune, existing in three persons: Father, Son, and Holy Spirit (Matthew 28:19) which persons are co-eternal, equal in power and glory, and identical in nature and attributes.

We believe the Lord Jesus Christ to be the pre-existent, eternal Son of God who became man, without ceasing to be God or in any way diminishing His Deity (John 1:1-5,14,18). He died bearing our sins to pay the ransom price for our redemption (Matthew 20:28), to secure our reconciliation to God (2 Corinthians 5:18-19), and to propitiate (satisfy) God, the Father, with respect to our sins. His literal, physical, bodily resurrection from the dead proves Him to be the Son of God (Romans 1:4) and guarantees both eternal redemption and personal resurrection for all believers.

We believe the Holy Spirit is a person and as God is co-equal with the other members of the Godhead (John 14:16-17; Matthew 28:19). At the moment of salvation, the Spirit regenerates (Titus 3:5), baptizes into Christ (1 Corinthians 12:3), comes to indwell (Romans 8:9), seals unto the day of the redemption of the body (Ephesians 1:13,14), and distributes at least one spiritual gift (1Corinthians 12:7-11) to each person who believes in the Lord Jesus Christ.

We believe salvation is the gift of God brought to man by grace, based upon the finished, complete, perfect work of the Lord Jesus Christ, the Lamb of God, in dying on the cross bearing and being judged by God for the sins of all members of the human race to provide for forgiveness of sins (John 1:29; Ephesians 2:8, 9; 1:7;1 Peter 1:18, 19).

---